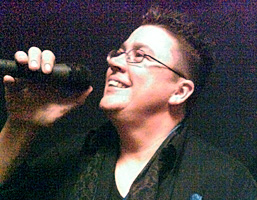 Angel Bouchet
Angel Bouchet sang constantly as a child, so much so that her mother finally told her to "Shut up and sit down". Angel didn't sing again publically until she was an adult, starting slowly with audiences in subway stations and public parks. Summertime, by Ella Fitzgerald, was the first song she learned as an adult, and blues became her repertoire.
When she mastered Etta James' At Last and began being hired to sing for weddings, she knew she'd found her vocation. After several years as a wedding singer, Angel needed the creativity of live music behind her and formed The Stormy Monday Blues Band, later changing the name to reflect her position as bandleader. The band went through a few incarnations looking for the right combination of musicians, though throughout, Angel has remained their vocalist and frontperson.
Today Angel fronts the Angel Bouchet Band. She writes all of the bands original songs, which compose about 2/3rds of their music. The music is in her blood and Angel claims to have inherited her love of the show from her great grandmother Bouchet.
The Angel Bouchet Band is a high energy, groovin' blues band with an eclectic variety of new and used tunes. Their original music is often requested by regulars and their traditional covers get people on their feet dancing. Angel's delivery is punctuated with personalization as she wanders through the crowd, mingling and singing directly to her fans. Her hand on a shoulder and ready grin or raised eyebrow, seen lately on the TV programs Portlandia and Grimm, have earned the Angel Bouchet Band a steady following. Dancers in particular love the rhythms that flow from The Angel Bouchet Band onto the dance floor.